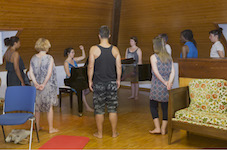 Every Monday evening in Monthey!
Give your body a workout through singing and movement to improve your physical and psychological health. Singing together for Your Well-being is a workshop based on singing and which facilitates reconnection with oneself and with others. Singing and dancing stimulates our brain and allows us to increase the production of endorphins and serotonins, "hormones of happiness" and natural painkillers! This workshop assists in building self-confidence and releasing blockages through creativity and group dynamics in a relaxed atmosphere.
We use singing, music, movement, meditation and techniques improving posture and breathing.
No skill in singing or dancing is required, everyone is welcome! The exercises and the choice of musical repertoire are easy and accessible to all.
Take a look at our pics and videos!